We've worked with Rene Clarke MSC, a leading thinker in workspace wellbeing and mental health. Together we've collaborated on a whitepaper that will help you manage the risks associated with returning to the workplace after this global pandemic.
Topics Covered Include:
Phsychosocial risk
People needs versus organisational needs
How to ensure staff are fit for work
How to support employee mental health
Download this free pdf today, to help pave a route to a successful and happy return to the workplace, enabling you to minimise risk and enhance your team's wellbeing and mental health.
"Out of adversity comes opportunity"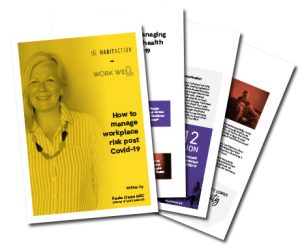 How To Manage Workplace Risk Post Covid-19
Get in touch with us