Recently, recognition and importance of supporting the needs of a neurodiverse workplace has positively increased, and there is a higher need for inclusivity in the workplace. Neurodiversity refers to the natural variation in neurological functioning found in individuals, including conditions such as autism, ADHD, dyslexia and others. Supporting neurodiversity promotes creativity and enhances productivity. It creates an inclusive, nurturing workspace, which can lead to higher productivity levels and a more creative space. One way to support neurodiversity is through thoughtful office design, in this blog we will explore the strategies for creating an inclusive, positive workspace that cater to the needs of neurodiverse individuals.
1. Sensory Considerations:
One of the key aspects of supporting neurodiversity in office design is addressing sensory sensitivities. Many neurodiverse individuals are sensitive to sensory stimuli such as bright lights, loud noises, and strong smells. To accommodate these sensitivities, consider the following:
Lighting: Provide adjustable lighting options, such as dimmable lights or individual desk lamps, allowing individuals to control their lighting environment.

Acoustics: Implement sound-absorbing materials, partition screens, or quiet zones to reduce noise distractions. Offer noise-cancelling headphones as an option for those who prefer them.

Scents: Avoid strong perfumes or cleaning products with overpowering scents that can be overwhelming for some individuals. Opt for scent-free or low fragrance alternatives.
2. Flexible Workstations:
The traditional office setup may not be conducive to the diverse needs to neurodiverse individuals. Introduce flexibility in office design to accommodate different work preferences:
Workstation Options: Offer a range of workstations, including standing desks, private cubicles, and quiet areas, allowing individuals to choose spaces that best suit their needs.

Sensory Break Areas: Create designated spaces where individuals can take sensory breaks to recharge or decompress when feeling overwhelmed. These areas can include comfortable seating, calming doors, and sensory-friendly elements such as fidget toys or stress balls.

Quiet rooms: Provide dedicated quiet rooms where individuals can retreat for focused work or to seek respite from overstimulation.
3. Clear communication and Visual Aids:
Effective communication is essential in any workplace. For neurodiverse individuals who may have challenges with verbal or auditory processing, visual aids and clear communication strategies can make a significant difference:
Visual Signage: Use visual cues, signs and pictograms to help navigate the office space, locate facilities, and communicate essential information.

Written Instructions: Provide written instructions and clear guidelines for tasks, projects, and office procedures to support individuals who may struggle with auditory processing.

Communication Tools: Utilize collaborative software or platforms that facilitate written communication and asynchronous collaboration, reducing the pressure of immediate verbal exchanges.
4. Supportive Office Culture:
Creating an inclusive office environment goes beyond physical design. It is essential to foster a supportive and understanding culture that embraces neurodiversity:
Education and Awareness: Conduct training sessions or workshops to raise awareness about neurodiversity, debunk stereotypes, and promote empathy and understanding among employees.

Open Dialogue: Encourage open conversations and provide a safe place for employees to express their needs, concerns, and suggestions for a more inclusive workplace.

Mentorship and Support Networks: Establish mentorship programs or support networks where neurodiverse employees can connect with others or support networks where neurodiverse employees can connect with others who share similar experiences and challenges.
By embracing neurodiversity and implementing inclusive office design, organizations can create environments that cater to the diverse needs of their employees. A thoughtful approach to office design can enhance well-being, productivity, and overall job satisfaction for all individuals, regardless of their neurological differences. By supporting neurodiversity, organisations not only foster an inclusive culture but also tap into the unique strengths and talents that neurodiverse individuals bring to the table, driving innovation and success in the modern workplace.
Fill in the form below to download our latest guide to help you with ideas for designing the best Neurodiverse Office for you!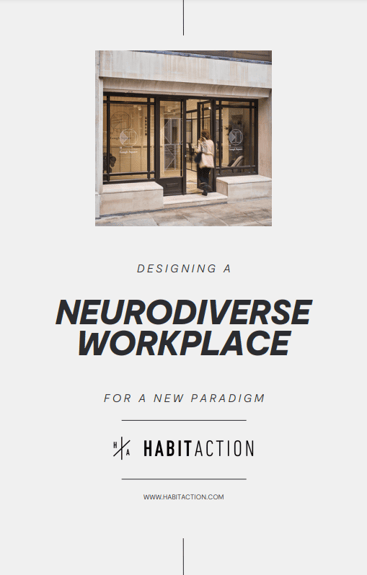 Get in touch with us