Office flooring is an often-overlooked fact, in the design of any workspace. It's easy to focus on the aesthetic and technical benefits of fittings such as desks, chairs, computer monitors, and other office furniture.
However, when it comes to choosing a high-quality finish for your flooring space, you want materials that won't let you down. The perfect office floor can make any professional environment look sleek and inviting while still proving hard-wearing enough to withstand the hustle and bustle of daily life.
Finding the right surface material needs careful consideration from the designers, responsible for a successful fit-out completion. In this blog post we will explore some of the best options in terms of fashion-forward design-ability as well as durability when selecting floors for offices, both new build and refurbishment projects...
When it comes to office fit-outs, there are many important decisions that need to be made – from the type of furniture and partitions used, to the lighting options and design scheme. One area not to overlook in any office renovation project is the flooring.
Choosing an option that's stylish while being practical and hard-wearing can make a huge difference both aesthetically and functionally, setting the right tone for your office's interior design. In this blog post, we discuss our top recommended flooring ideas for offices, as well as highlighting some potential pitfalls when making your decision.
Regardless of whether you're planning on a complete overhaul or upgrading just one room or corridor, read on to find out more about choosing (or avoiding!) flooring materials that will go the distance!

Carpeting – Choose a durability-focused carpet to stand up to high foot traffic.
When it comes to choosing a carpet, durability is key. No one wants a flooring option that looks worn after only a few months of use, especially in high-traffic areas. That's why it's important to choose a carpet that's specifically designed to handle heavy foot traffic. Not all carpets are created equal, so it's important to do your research and find one that's up to the challenge. Look for materials like nylon or polyester, which are known for their resilience and ability to resist stains and wear and tear. With the right choice, you can enjoy a beautiful, plush carpet that will stand the test of time.
Hardwood – Choose a timeless, classic design for an upscale look.
Hardwood floors add a touch of elegance and sophistication to any space they grace. With their timeless and classic design, they offer an upscale look and feel that can't be matched by other flooring options. Whether you're renovating your home or giving your office a facelift, hardwood is the perfect addition to make a bold statement. Jasper wood, in particular, is renowned for its durability and unique grain pattern, adding a touch of luxury to any room. Not only does hardwood flooring provide an aesthetic appeal, but it's also practical, as it's easy to clean and maintain. Plus, it's a sustainable choice that can last for generations to come. Choose hardwood for a luxurious and timeless flooring option that will leave a lasting impression.

Laminate – Durable and easy to clean, laminate flooring is perfect for busy offices.
When it comes to outfitting a busy office, the flooring you choose makes a big difference. That's where laminate comes in. Not only is it incredibly durable, able to withstand even the most high-traffic areas, but it's also super easy to clean, making it perfect for those days when spills and stains are just par for the course. Plus, with a range of different styles and finishes available, laminate can complement any office décor and give your space a fresh, modern look. So, if you're in the market for a flooring solution that can keep up with your busy office, look no further than laminate.
Cork Flooring – Warm and comfortable, cork flooring can also reduce noise in the office.
Looking for a flooring option that not only makes your office feel warm and cosy, but also helps reduce noise distractions? Look no further than cork flooring! This natural material adds an inviting touch to any space and has proven effective in soundproofing rooms, making it an ideal choice for busy office environments. Plus, cork is sustainable and eco-friendly, so you can feel good about your flooring choice while enjoying its many benefits. So why settle for a cold, loud workspace when you can opt for the warmth and comfort of cork flooring?

Vinyl Tile – A great option for budget-friendly but stylish office floors.
Vinyl tile is the perfect solution for those who are in the market for a budget-friendly flooring option that doesn't compromise on style. Whether you're updating your home office or revamping the floors of an entire commercial space, vinyl tile is a versatile and resilient choice. With its sleek appearance and durability, you won't have to worry about sacrificing quality for affordability. Plus, vinyl tile is available in a wide variety of colours, patterns, and textures, making it easy to find the perfect match for any design aesthetic. So, if you're looking to give your office a much-needed makeover, vinyl tile just might be the perfect choice for you.
Concrete Flooring – An industrial look that's both durable and easy to maintain.
Concrete flooring is the definition of touch chic. Not only is it an easy way to bring an industrial edge to any space, but its durability and low-maintenance upkeep make it an ideal choice for busy workplaces. Concrete can be polished to a high shine or left with a raw texture that highlights its natural imperfections and gives it a unique character. And with a variety of stains and finishes available, the possibilities are endless. Whether you're looking to revamp your living room or transform your garage into a functional workspace, concrete flooring is a versatile and stylish option that's sure to impress.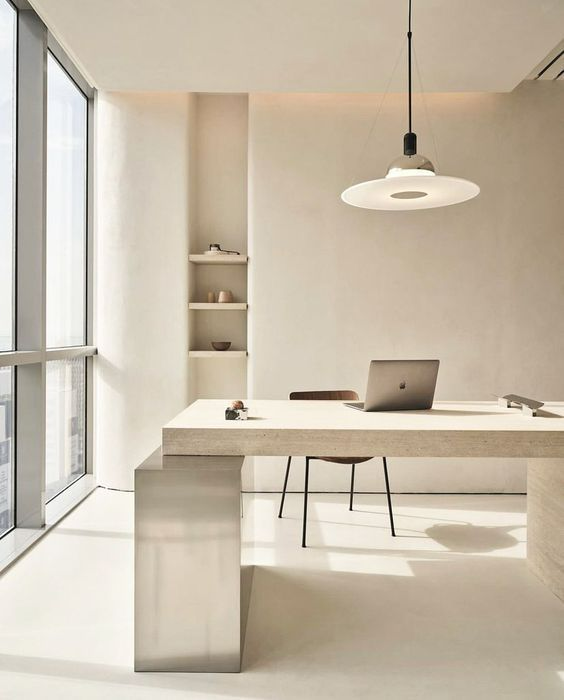 To conclude, there are many flooring options to choose from when creating the ideal office space.
Whether you are looking for something luxurious, like hardwood floors, or something more economical, such as vinyl tile flooring, there is something to fit every purpose and budget. Carpeting may be the obvious choice due to its comfort and sound dampening features, but it can also be an expensive investment that doesn't stand up to high foot traffic areas. If you have a heavy-traffic area, laminate flooring is the more durable option that will make your budget happy without sacrificing style.
With laminate and vinyl tile, you can get both durability and a wide variety of style choices that would be perfect for any workspace. For those who appreciate a more subtle look but don't want to sacrifice their comfort, cork flooring fits the bill! Concrete flooring offers an industrial look with little-to-no maintenance required.
No matter which option you choose, each provides qualities that are sure to give your office space life without breaking the bank.
Find out more about the correct office flooring for you by getting in touch today!
Get in touch with us