Solutions Guide
Have you seen our handy guide to a successful return to the workplace?
From product inspiration to guidance with specific challenges, the Habit Action team are here to help you return to normality in the safest and most efficient manner. This useful guide will help you achieve this, offering peace of mind to your team, visitors and other stakeholders.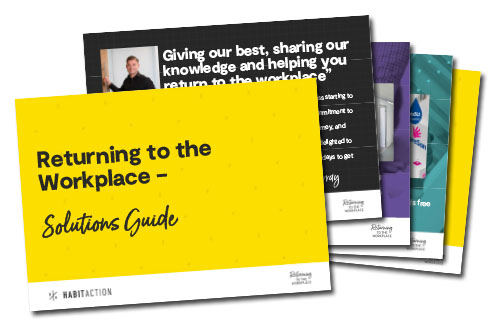 Webinar Series
Featuring speakers from around the globe, this webinar series is growing in popularity. Register online today to be included in the next event and access recordings of previous events.
Topics covered include; managing risk post Covid-19, planning a safe transport strategy, workplace culture tips, as well as best practice for handling food and beverages in the workplace, and how to manage communal spaces. These events offer a range of vital insights which will help prepare you and your team for a safe return to the workplace.
Download your free guide today, and register here for our free webinar series.
Get in touch with us