When people are your largest expenditure every month, ensuring that they are performing at their best becomes of paramount importance...
Building and maintaining a winning team doesn't come easily, or overnight for that matter. It's our guess that every business owner or director has walked through the office space at some point and wondered how they could get more from their people.
Productivity breeds confidence
Aside from return on investment, helping your people to be more productive has other benefits too. Productivity breeds confidence, and confidence brings happiness, fulfilment and satisfaction.
Creating an office environment that truly helps your people to be their best is one of the fastest and effective routes to enhancing productivity in your organisation. To do this, and guarantee enhanced productivity, you will need to take advantage of evidence based design in the office.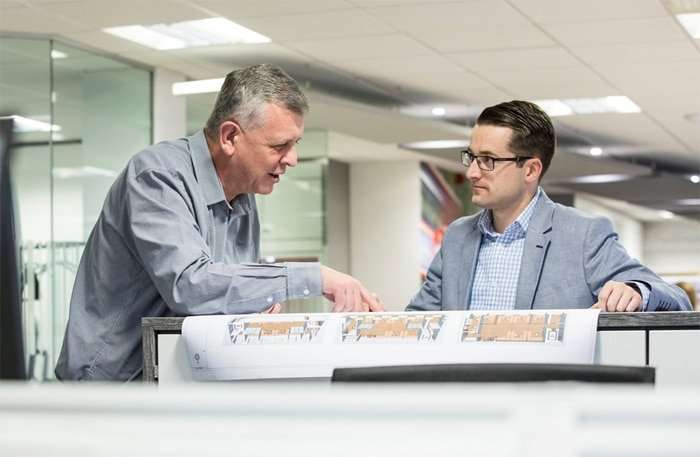 How does your office space perform?
By analysing your office space and the activities that your people carry out every day, you can create an office space that matches the way your organisation is working, thereby enhancing the return on investment from your office space.
Analyse and understand what is happening in your organisation
Office space analysis gives you meaningful data to back up internal conversations
Understanding your office space allows you to plan more strategically
Improve productivity in your team by giving them an environment that suits the tasks they are doing every day
Reduce real-estate costs and save space by discovering where space wastage or under-utilisation is occurring in your office space
Create an attractive and scientifically designed workspace to attract and retain talented individuals to your organisation.
The evidence unveiled from detailed office space analysis tells you what you need, not what a designer thinks you need
Don't just add fun gimmicks to your office space, ensure that they are there to help your team be more productive
Identify your unique collaboration and communication patterns and develop an office design to suit
Build an office design that incorporates the long-term growth plans of your organisation without excess expenditure
Find out what is really happening under the skin of your office, and how your people feel about their workspace
Get in touch with us