Founded in 2006, Laurelle London is a market leader in the development, formulations, and supply of fragrance and beauty products as well as its own portfolio of brands. With a growing demand for their products and a desire to create a space that was fit for their high-profile clients, Laurelle took the decision to move to a new build facility in Canvey Island. With a very specific set of needs and an interest in Habit Action's Aromabooth product and brand, Laurelle reached out to learn more about how our unique testing booths could work for them, Laurelle found themselves on a journey of discovery with Habit Action.
As experts in the flavours and fragrance market, Laurelle quickly realised Habit Action had the knowledge and experience to lead a huge transformation project for the company. Given that this project involved building their office, production, and warehouse facility from scratch, added to the complexities of this project. However, this also opened a window of opportunity to create something truly beautiful for the company as well as increase Laurelle's ability to expand its production and creation capabilities. One of the aims we clearly identified at the beginning of this project was that this new space was about elevating the brand and making it a space they are proud to bring their clients to. With this in mind, we created a reception space that exudes luxury and class with a stunning feature staircase using natural timber flooring from Havwoods and beautiful marble tiles. This is then offset by a dramatic cascading chandelier down the centre of the stairwell. Other features in this space include the 'Circle of Life' meeting pod by TablePlaceChairs and a stone effect reception desk.
Canvey Island, Essex

50,000 sq ft

6 months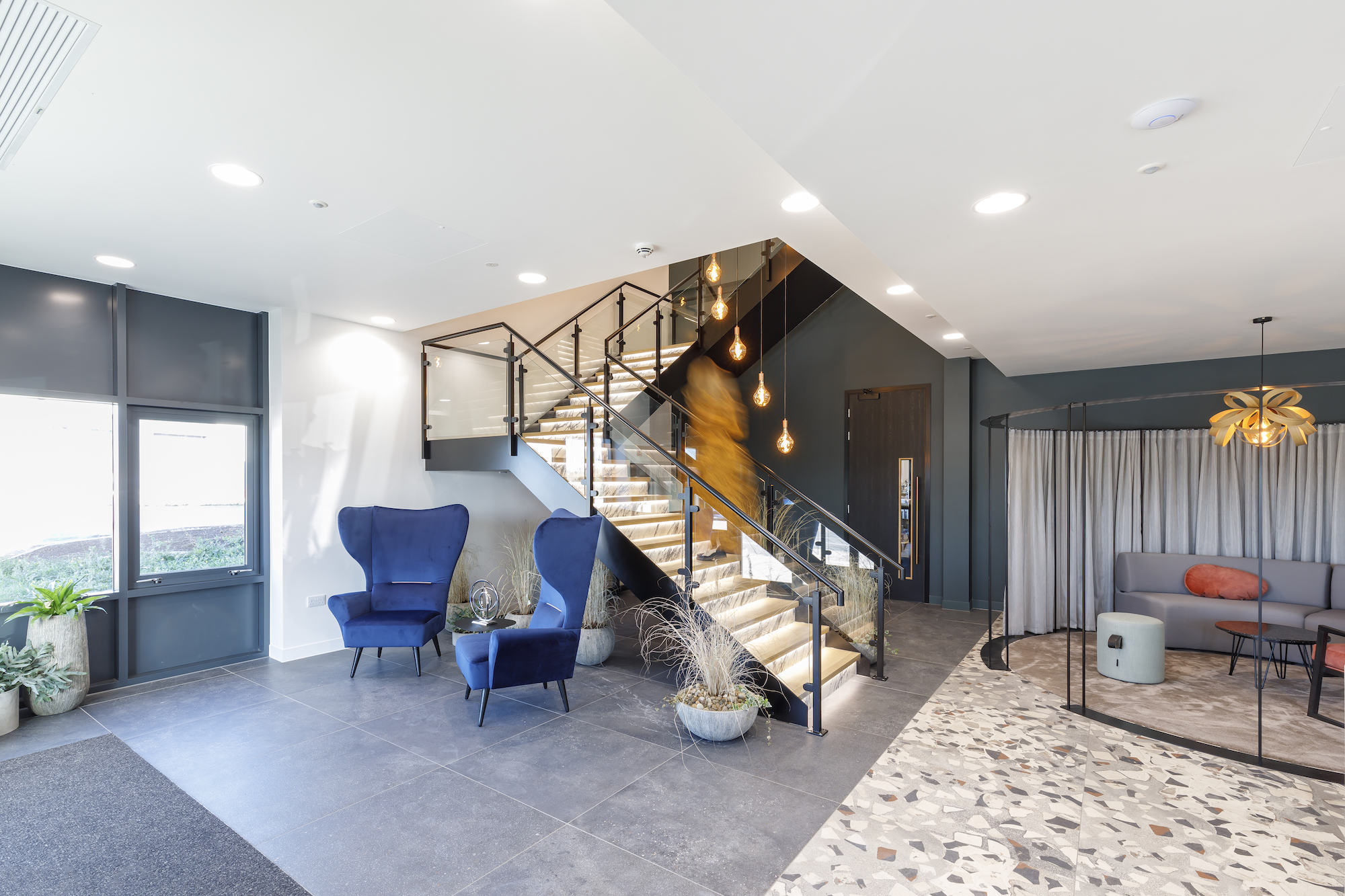 As you move to the first floor, the environment replicates a hotel feel with luxury doors and floor finishes. In the toilets, the Terrazzo flooring and granite countertop add to the luxury feel of the space. Moving into the client entertainment area, there is a dedicated kitchen and lounge space for clients to enjoy coffee or food throughout their visit. The marble island unit is a great space to entertain guests or hold informal meetings. The dramatic copper backsplash adds a touch of class and elegance to the space and brings the space together.
Adjacent to the client entertainment lounge is a 10-person boardroom space with a Davidson Highley modular curved sofa to provide extra seating for larger meetings. The backlit display cabinet next to the screen is a great space to display their products. In view of making the client experience more engaging and collaborative, the boardroom leads to a fragrance testing room where our Aromabooth product is installed. This means that products can be sampled by their clients in an immersive environment, enhancing their experience with the brand and products.
The executive office is a beautiful multifunction room with an executive desk, a 6-person meeting table, a soft seating area and a movable whiteboard and pin board, making this space suitable for serving many purposes. The display wall in this suite adds a truly stunning feature to the space displaying ornaments and fragrance products.
Other elements of the first floor include the main office space, zoom room, black room for printing and planning, and the main canteen space with an outdoor balcony looking onto fields and the sea.
The ground floor is home to the production space and a 3,000-pallet warehouse space where all the distribution takes place. Other spaces downstairs include the toilets and showers for production staff, laboratory space for fragrance creation, a locker room for staff, and more storage space for packaged samples.
A fantastic space and an amazing journey that Habit Action is proud to have been a part of.
this project?